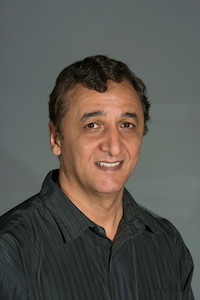 dmarzoug@gmu.edu
Room 2114
(703) 993‒4680
Professor Dhafer Marzougui, Research Director
Dr. Marzougui joined GMU as Associate Professor of Computational Solid Mechanics in July 2013. He holds a D.Sc. in Mechanical Engineering from The George Washington University, as well as a B.S. in Mechanical Engineering and M.S. in Engineering Mechanics from The Pennsylvania State University.
Previously, he was the codirector of the National Crash Analysis Center where he has focused on vehicle crashworthiness, roadside safety hardware evaluation and development, and infrastructure security research. He has expertise in the simulation of structures, mathematical and analytical modeling, and crash testing. He managed major research projects for FHWA, NHTSA, the Department of State, and the National Academy of Sciences. He has been a pioneer in the development of innovative numerical methods and tools for use in transportation safety research including the development of detailed vehicle models with full-representation of suspension/steering and occupant restraints and modeling of the full range of roadside safety hardware. His research on cable median barrier contributed to increased awareness of the influence of slopes and median configurations on barrier performance. These efforts included extensive vehicle dynamics analysis to assess the sensitivity to vehicle mass, speed, and departure angle. In earlier efforts he evaluated the safety performance of W-beam guardrails, portable concrete barriers, longitudinal transitions, sign support systems, and secure mailboxes. While at NCAC, he got involved in modeling and simulation of perimeter security barriers. These efforts required modeling of trucks and simulation of higher energy impacts. These projects investigated various types of anti-ram barriers, identified critical parameters influencing effectiveness and provided guidance for effective deployment. In many of these efforts he optimized the designs for bollard systems, reinforced concrete walls, fences, and surface planters to assure proper construction worldwide.
In addition, Dr. Marzougui has contributed to other aspects of transportation safety and security including developing models of test "dummies" and modeling an aircraft fuselage to investigate using simulation the effects of air turbulence on belted versus unbelted passengers. While at NCAC he was the manager of the FHWA Federal Outdoor Impact Laboratory (FOIL) where he planned and executed a wide range of full-scale crash and component tests for roadside hardware and anti-ram barrier evaluation. Dr. Marzougui has been the author of numerous reports and articles for professional journals. He also has taught several graduate courses and seminars on FE modeling and simulation of collisions using LS-DYNA.